PDF To JPG 10-Day Giveaway
Get Free Licenses of PDF To JPG!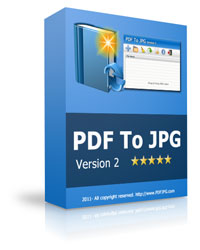 Name: PDF To JPG
Size: 2.14MB
Version: 2
OS: Windows XP/2000/Vista/7/2003/ME/Win8
Regular Price: $29.95 USD
Giveaway License Serial Code:

Removed On Date

NOTE: This giveaway has been closed on July 1st, 2012.
PDF To JPG is a windows application that quickly converts PDF documents to image formats like JPG, TIF, BMP, PNG and GIF. Users are able to customize DPI and Page Range in conversion setting. Also, PDF To JPG supports Batch Mode that converts hundreds of PDF documents into images at a time.
Quick Start

(1) Add PDF documents you want to convert

(2) Set Page Range, DPI (default is 120) and Output Path

(3) Click the Start Converting Now button to start the conversion